In this series of video clips, several artists discuss their selection of documents for the Symposium Discourse in Motion, which is the final event of An Annotated Bibliography in Real Time and the beginning of a series of public projects in conjunction with the research project Keeping it Live / L'archive vivante : Performances, Archives and Exhibitions.
Julie Andrée T.
Graduate of Studio Arts at Concordia University (2000), and pursuing her doctoral degree in the program Études et pratiques des arts (UQAM), Julie Andrée T. works with performance and installation, situating the body and the space at the very center of her practice. She showed her performances in Europe and Canada, and she had solo exhibitions at Le lieu (Quebec), A Space (Toronto), Articule (Montreal), and Trace (Cardiff). Her practice explores the loss of identity, among other themes, straying from the codes of performance to underscore the graphic dimension of the work. It was with Not Waterproof / L'érosion d'un corps erroné and Rouge, presented at the Festival TransAmériques in 2009, that she found the theatrical vehicle she had been looking for: an installation-performance stemming from a perfect amalgam of graphic materials (body, painting, accessories, costumes, lights…) and sound elements. Regarded as an object, the body is often severely tested.
Sylvette Babin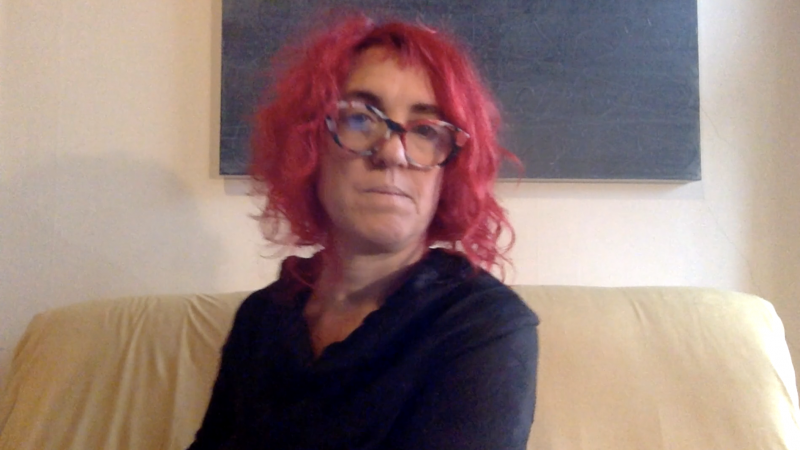 Sylvette Babin holds a Master of Fine Arts (Open Media) from Concordia University. Her practice of artistic performance has led her to participate in numerous events in Canada and in some twenty cities in Europe, Asia and Latin America. She has been a member of esse magazine's editorial board for over 20 years and has acted as editor since 2002. She has contributed articles for magazines, catalogues and artists' books and has curated the events Les Convertibles produced by Culture pour tous (2006), Infraction 08 (Sète, France, 2008), and Il Nostro Gusto (Triennale Orange, Saint-Hyacinthe, 2009). She has taught Art and Urban Theatre at Shawinigan College and Visual and Media Arts at Cégep de Saint-Hyacinthe. Sylvette Babin has sat on several peer committees, including for the Canada Council for the Arts, the Fonds de recherche du Québec – Société et culture and for various art centres, and has taken part in various advisory committees.
Francys Chenier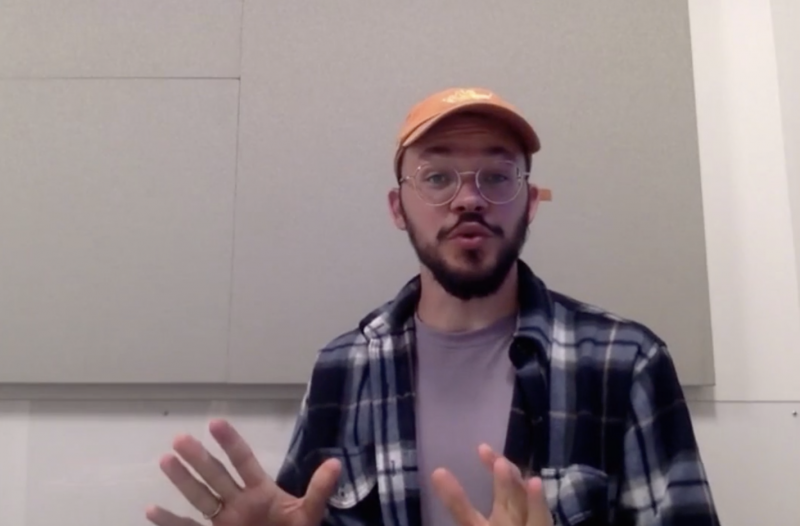 Francys Chenier holds a Bachelor's degree in Visual and Media Arts (2006-2010) and an interdisciplinary Master's degree in Art (2012-2015) from l'École d'art de l'Université Laval. His academic background has earned him several awards, including the René-Richard Master's Scholarship in 2016. In addition to several independent and clandestine projects, his work has been presented as part of events — Viva ! Art action (Montreal, 2015), Les liaisons artistiques, Musée du Bas-Saint-Laurent (Rivière-du-Loup, 2015) — and individual exhibitions in the artists' centers Caravansérail (Rimouski, 2017) and L'Œil de poisson (Quebec City, 2018). His performances were presented at Dare-Dare centre (Ars memoriae – Les Nuits de la poésie, Montreal, 2013) and Artexte (Voyage de têtes with Sylvie Cotton, Montreal, 2015). He has completed residency projects, most recently at the Chambre blanche (Quebec City, 2017).
Shannon Cochrane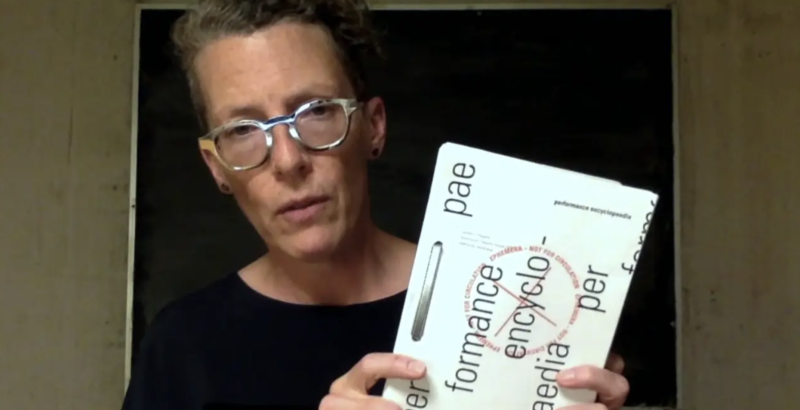 Shannon Cochrane is a Toronto-based performance artist. Her work has been presented in festivals, theatres and at various events across Canada and the U.S., and in over 18 countries across Europe, Asia, and the UK. Her work seeks to engage reflexively with the audience, strategically with humour and methodically with physical material to present situations and images that deconstruct and look critically at the formal presentation of art action, authorship, and repetition. Cochrane is the Artistic Director of FADO Performance Art Centre. She is also a co-founding member of the Toronto Performance Art Collective (established 1997), and is one of the current curators and organizers of the 7a*11d International Festival of Performance Art produced by the collective every two years in Toronto.
Paul Couillard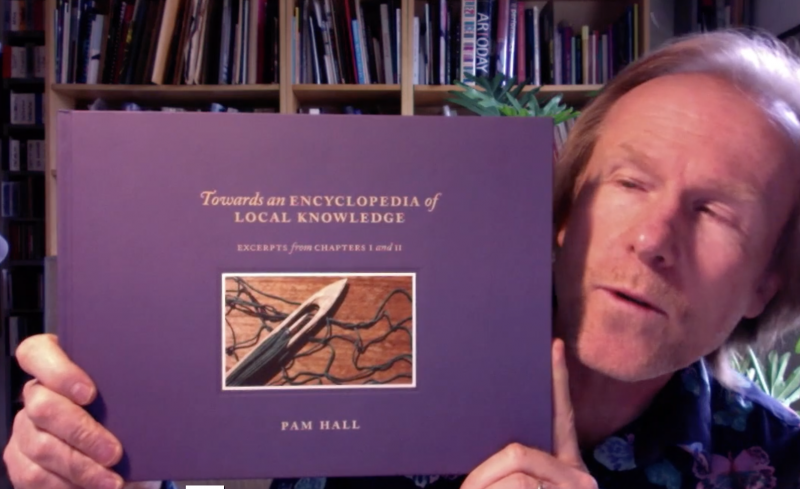 Paul Couillard has been working as an artist, curator, and performance art scholar since 1985. He has created more than 200 solo and collaborative performance works in 26 countries, often working with his partner Ed Johnson. Couillard was the Performance Art Curator for Fado Performance Inc. from its inception in 1993 until 2007 and is also a founding co-curator of Toronto's 7a*11d International Festival of Performance. He is the editor of Fado's Canadian Performance Art Legends, a series of books on senior Canadian performance artists. His current research is focused on a theoretical recuperation of the notion of presence as intra-active relationality and shared meaningfulness.
Dena Davida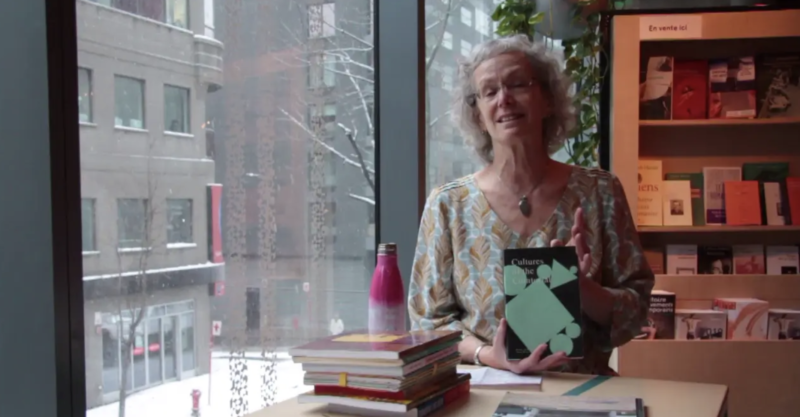 Dena Davida has practised contemporary dance for 45 years as a performer, teacher, researcher and curator.  She co-founded, directed and is currently the curator of Montreal's Tangente dance performance organization.  She was also co-founder of the Festival international de nouvelle danse de Montréal.  She taught dance improvisation and composition, Laban Movement Analysis, dance aesthetics and anthropology as a lecturer at the Université du Québec à Montréal (UQAM) for over 25 years.  Her essays and research articles have been published in numerous magazines and journals. Her recent publications include a chapter on the establishment of university dance programmes in Montreal for Renegade Bodies: Canadian Dance in the 1970s and the international anthology Fields in Motion: Ethnography in the worlds of dance, for which she was editor along with 28 dancer-researchers. In 2014, she initiated a long-term project to develop the theory and practice of performing arts curation through a website, an international symposium, a Master's level seminar and the publication in 2018 of Curating Live Arts: Critical Perspectives, Essays and Conversations in Theory and Practice.
Shawna Dempsey & Lorri Millan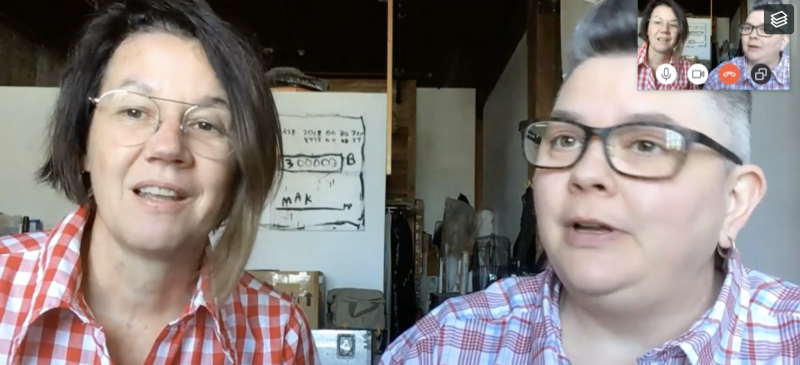 Shawna Dempsey and Lorri Millan are among Canada's best-known performance artists. They were catapulted into the international spotlight in their 20s with the performance and film We're Talking Vulva. Since then, their live work and videos have been exhibited in diverse venues as far-ranging as women's centres in Sri Lanka to the Museum of Modern Art in New York City. This Winnipeg-based duo has created installations (such as Archaeology and You for the Royal Ontario Museum), public art pieces (such as One Gay City, the subject of a Manitoba Human Rights Commission challenge) and books (such as Bedtime Stories for the Edge of the World, Arbeiter Ring Press). To most, however, they are known simply as the Lesbian Rangers of Lesbian National Parks and Services. Their humorous, feminist and provocative work has been acclaimed as "one of the high-points of contemporary Canadian artistic production" (Border Crossings Magazine). 
Margaret Dragu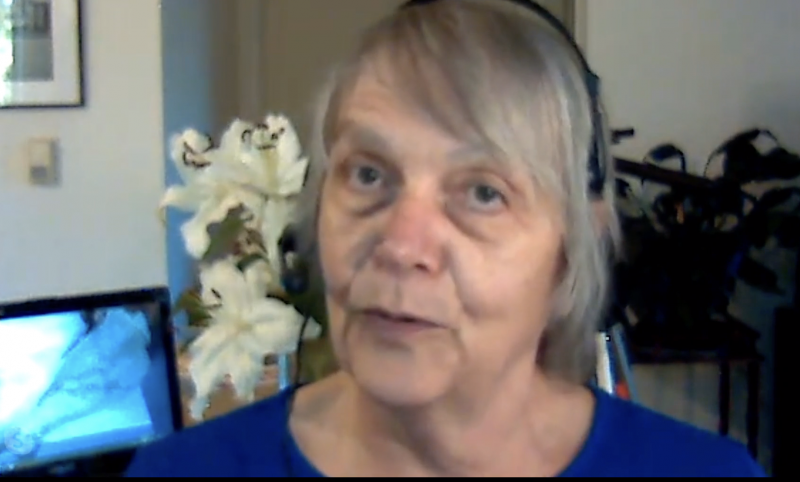 Margaret Dragu works in video, installation, web/analogue book publication, and performance. Spanning relational, durational, interventionist and community-based practises, her performances have been presented in galleries, museums, theatres, nightclubs, libraries, universities and site-specific venues including parks, botanical gardens, and public parade routes across Canada, the U.S. and Europe. An innovator and pioneer in Canadian art, Dragu was the recipient of the Governor General's Award for Visual and Media Arts in 2012. Margaret Dragu was born in Regina, Saskatchewan. She lives in East Vancouver, BC where she makes art and continues her 45+ year art practice along with her 45+ year body practice as Personal Trainer/Group Fitness and Yoga Instructor.
Marie-Claire Forté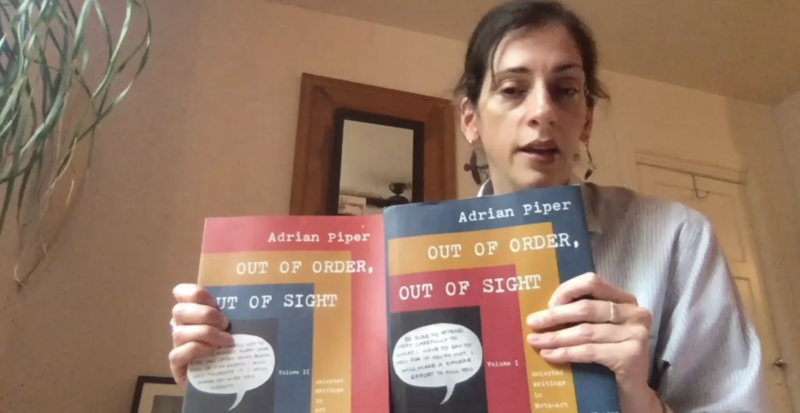 Based in Montreal, Marie Claire Forté is driven by the relational, experiential and experimental potential of dance. As both choreographer and dancer, she leads her own projects and works with the likes of Louise Bédard, Aurélie Pédron, Martin Bélanger, and PME-ART. She was a dancer in residence at Agora de la danse from 2017 to 2019. In 2016, the Leonard & Bina Ellen Program in Support of Artistic Production allowed her to undertake the bilingual exhibition and publication – I'd rather something ambiguous. Mais précis à la fois. with close friend Sophie Bélair Clément. From 2004 to 2008, she danced at the now defunct Le Groupe Dance Lab in Ottawa, training daily with Peter Boneham. He remains her great friend and mentor, and they are currently working on a book about his teaching practice. In conjunction with her artistic practice, she translates, writes and teaches dance.
Nadège Grebmeier Forget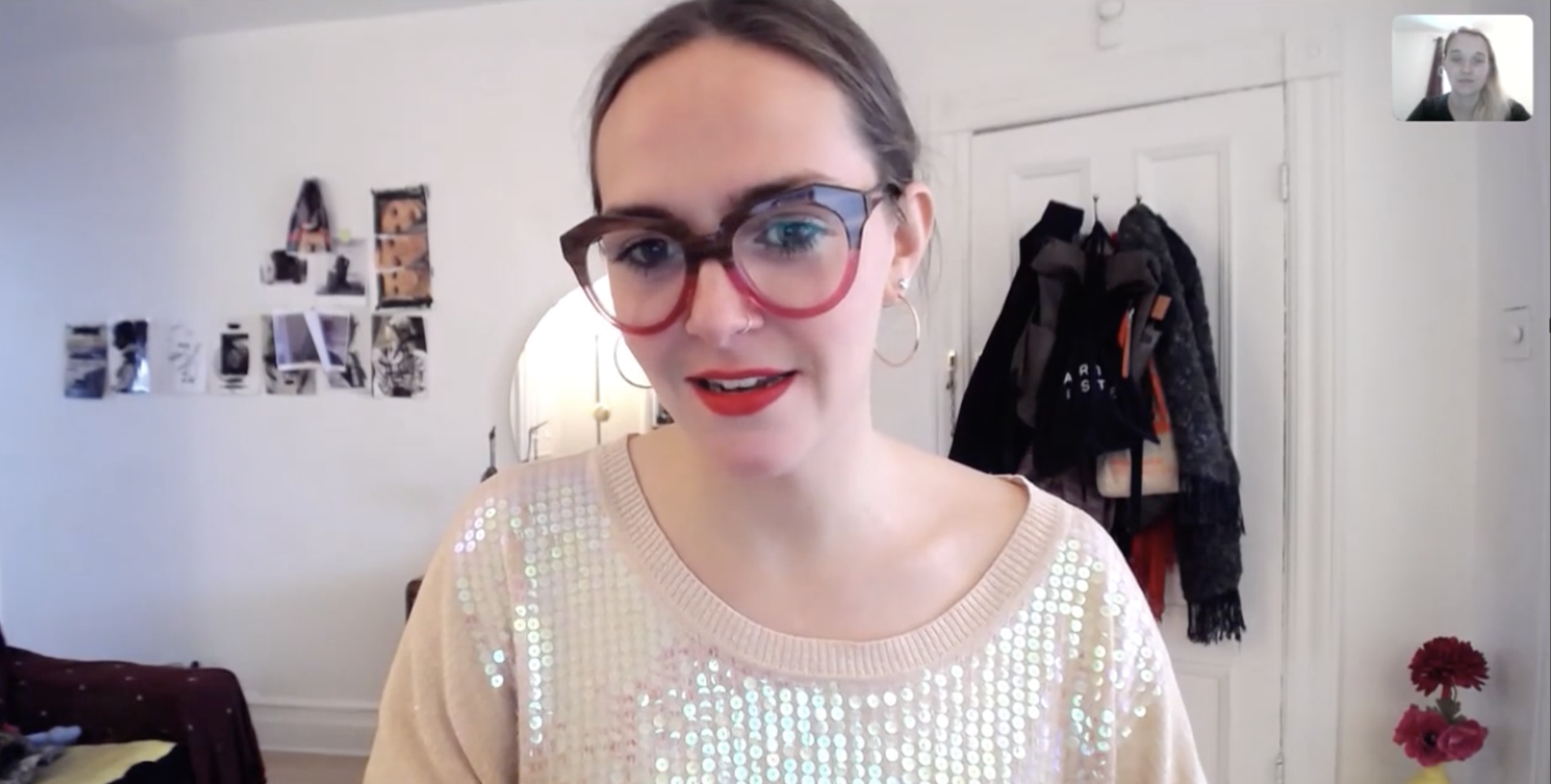 Circulating within both the visual and live arts communities – as an artist, independent curator, and consultant or freelance project manager/artistic director – Nadège Grebmeier Forget has participated in numerous events, festivals, panels, residencies, and exhibitions in Canada, the USA, and Europe. She is the first performance artist to receive the Prix Pierre-Ayot (2019), awarded by the Ville de Montréal, in partnership with the Contemporary Art Galleries Association (AGAC). Her interdisciplinary practice unfolds via durational, live, live-streamed and private performances, which sometimes result in photography or installation works. Her performances aim to model and hybridize the self to defuse expectations of beauty and explore the effects (and affects) of the concerned gaze on the unfolding identity as it is observed and analyzed by others, including oneself. Seeking to confront desires and ideals (aesthetic, commercial, sexual, etc.) through an empowered and performative manipulation of her own image, she intrinsically questions the labour of making and becoming; including the ways in which performance (of self or art) can be documented, shown, disseminated or exhibited.
k.g guttman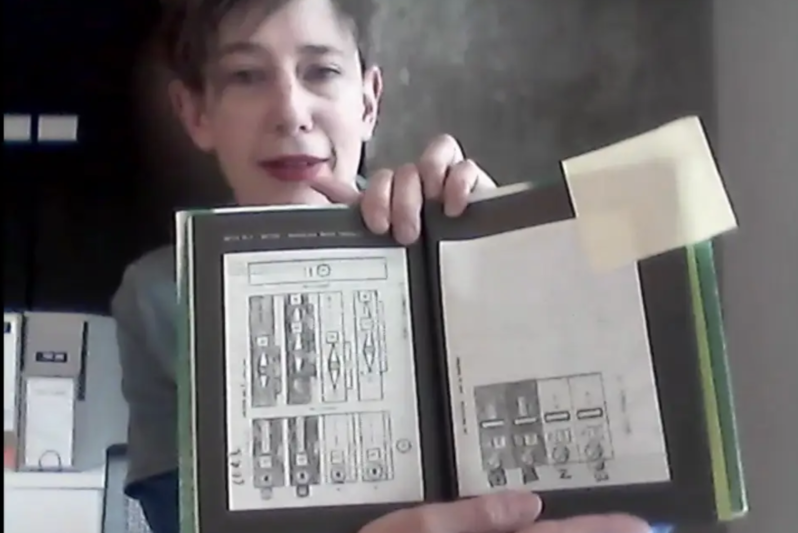 k.g. Guttman is a Canadian artist, educator, and research candidate in the PhDArts program of Leiden University and the Royal Academy of Art in the Hague, the Netherlands. Her work has received a grant by the Social Sciences and Humanities Research Council of Canada (SSHRC) to conduct artistic research that considers territoriality discourse, choreographic practice, and site-specific interventions. From 2008-2013. k.g. was an Assistant Professor in the Department of Contemporary Dance, Concordia University, Montreal. Her work has been screened, produced and presented nationally and internationally with the help of institutions such as the Palais de Tokyo and Galerie Khiasma in Paris, the Ottawa Art Gallery, Galerie La Centrale and VIVA! Art action in Montreal, the Musée d'Art de Joliette, and TPW Gallery and Blackwood Gallery in Toronto. Her choreographic works were commissioned by the Canada Dance Festival, Dancemakers, Le Groupe Dance Lab, Ottawa, and Sonora University, in Mexico. The performance documentation for her work Elapse I & II was launched at Art Metropole, Toronto and Galerie La Centrale, Montreal, and is part of the National Gallery of Canada's Library & Archives collection. 
Adam Kinner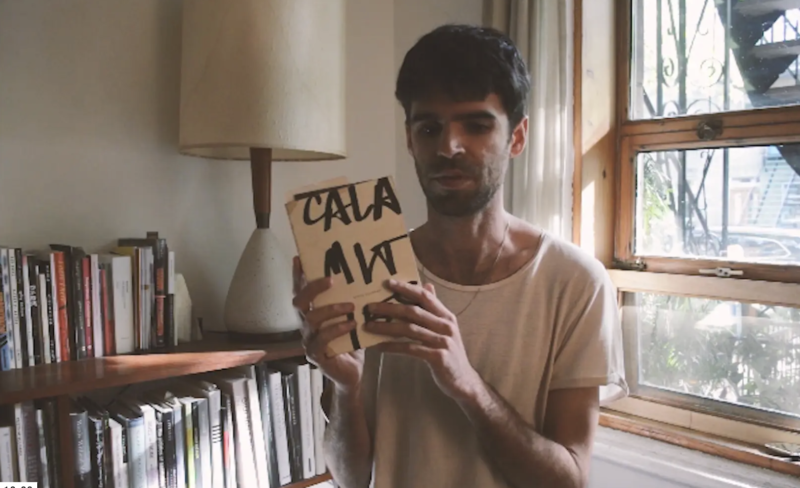 Adam Kinner (Washington, D.C., 1984) is an artist living and working in Montreal. Having trained in music, he now makes work on the thresholds of performance, sound and visual arts, collaborating with artists from dance and music. Recent projects include Instructions for a performance by Emma Goldman, an exhibition at the Foreman Art Gallery which distills his research on the Haskell Free Library and Opera House, a heritage building that straddles the Canada/U.S. border; an exhibition at Artexte that wove together national and personal performance histories, sound works, and readings; a performance with 8 saxophonists for the Musée d'art contemporain des Laurentides; and a research-performance project for OFFTA in Montreal. He has presented work at the Leonard and Bina Ellen Gallery, SBC Gallery, Galerie de l'UQAM, Musée McCord as well as Usine C, Tangente, Studio 303 and Innovations en Concert. His work has been shown abroad in the UK, USA, France and Belgium. In the summer of 2017, Kinner was a fellow at Vila Sul in Salvador de Bahia, Brazil. He holds degrees from McGill University and Concordia University and is currently completing an MFA at the School of the Art Institute of Chicago.
Chantal Pontbriand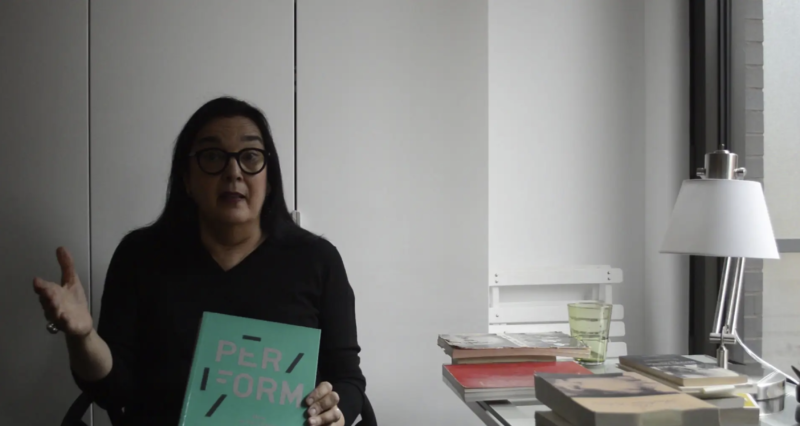 Chantal Pontbriand is a contemporary art consultant, curator, and critic whose work is based on the exploration of questions of globalization and artistic heterogeneity. She has curated numerous international contemporary art events: exhibitions, international festivals, and international conferences, mainly in photography, video, performance, dance, and multimedia installation. She was the founder of PARACHUTE contemporary art magazine in 1975 and acted as publisher/editor until 2007, directing 125 issues. After curating several major performance events and festivals, she co-founded the FIND (Festival International de Nouvelle Danse) in Montreal and acted as president and director from 1982 to 2003. She was appointed Head of Exhibition Research and Development at Tate Modern in London in 2010, and then founded PONTBRIAND W.O.R.K.S. [We_Others and Myself_Research_Knowledge_ Systems] in 2012. In 2015-2016, she worked on the development of DEMO-GRAPHICS for the Greater Toronto Area, and she briefly occupied the newly-created position of CEO-Director at the Museum of Contemporary Art Toronto (MOCA). Since 2017, she is developing SPHERE(S), a new type of international art event based in Montreal, and is writing a book titled EXIL(E], migration and aesthetics.
Noémie Solomon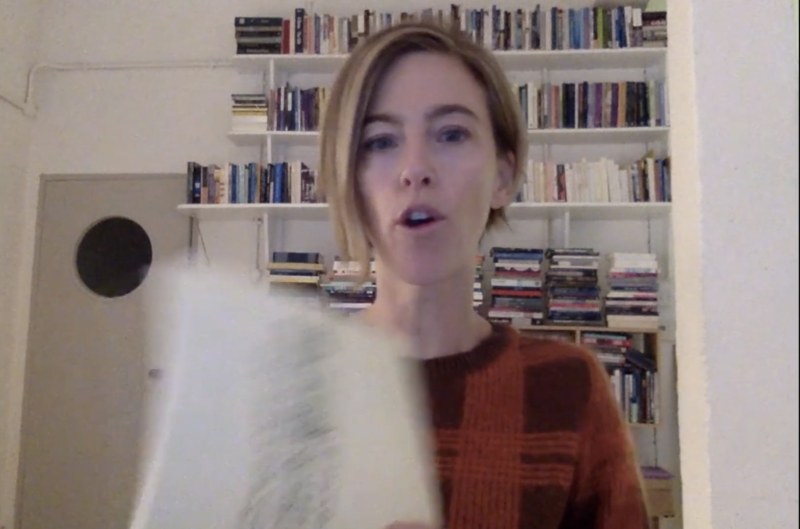 Noémie Solomon works as a teacher, writer, dramaturge, and curator in the field of contemporary dance and performance. She edited the collections DANSE, an anthology and a catalogue published by Presses du réel, 2014 and 2015. Her essays and translations have been published in various journals such as Dance Research Journal, Dance Chronicles, TDR, Movement Research, and Maska; in the critical anthologies Planes of Composition (ed. Joy and Lepecki, Seagull Press) and Perform Repeat Record (ed. Heathfield and Jones, Intellect Press); and art catalogues such as Superbodies (Lido), Move: Choreographing You (Hayward), Judson Now (Danspace), Sharon Lockhart | Noa Eshkol (TBA), and Boris Charmatz (MoMA). She collaborated on a series of dramaturgical and curatorial initiatives in the dance field internationally, including: the redoing of Allan Kaprow's 18 Happenings in 6 parts, directed by André Lepecki (Haus der Kunst, 2006; PERFORMA 2007); Dance on Time with Gurur Ertem (iDANS, Istanbul, 2009); Self-Methodologies with Sandra Noeth (Tanzquartier, Vienna, 2011); the Photomusée de la danse with Tim Etchells (Festival d'Avignon, 2011); Solos and Solitudes with Jenn Joy (Danspace Project, NYC, 2012-13); and Dancing is talking / Talking is dancing with Jenny Schlenzka (MoMA PS1, NYC, 2014). Car c'est par la fragilité que la révolution œuvre, a dance work co-created with Adam Kinner, premiered in Montreal in May 2016.
Victoria Stanton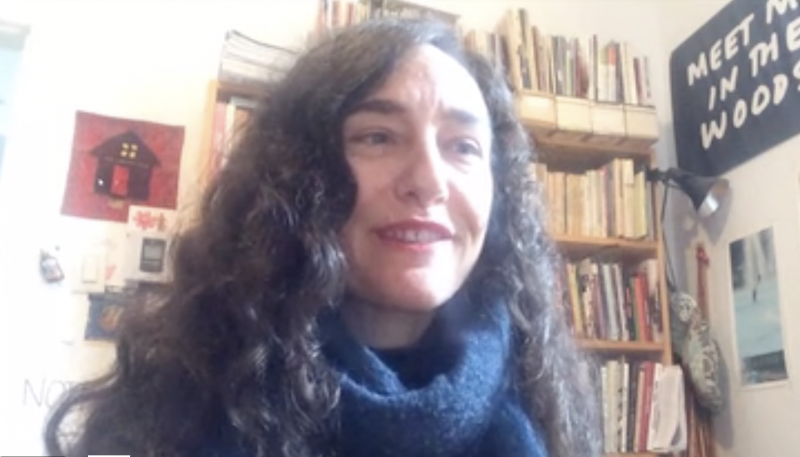 Victoria Stanton is an interdisciplinary performance artist and researcher-curator-educator. She has curated performance art programs for artist-run centres in both Montreal and Toronto, has contributed critical writings about interdisciplinary performance practises – in particular the performative as it is revealed in material and time-based works – to a variety of art publications, and is a founding member of the performance art/research collective, TouVA (with Sylvie Tourangeau and Anne Bérubé). Her first book Impure, Reinventing the Word: The Theory, Practice and Oral History of Spoken Word in Montreal (conundrum press, 2001), co-authored with Vincent Tinguely, chronicled a vibrant artistic movement via interviews with over 75 artists. Her second book, The 7th Sense: Practicing Dialogues / Practicing Workshops / Practicing the Daily Performative / Practicing Performance Art (SAGAMIE édition d'art, 2017), co-authored by TouVA, and initially researched during their eight-month residence at Artexte (2008-2009), draws upon a profound exploration of "the performative" in performance art.
Françoise Sullivan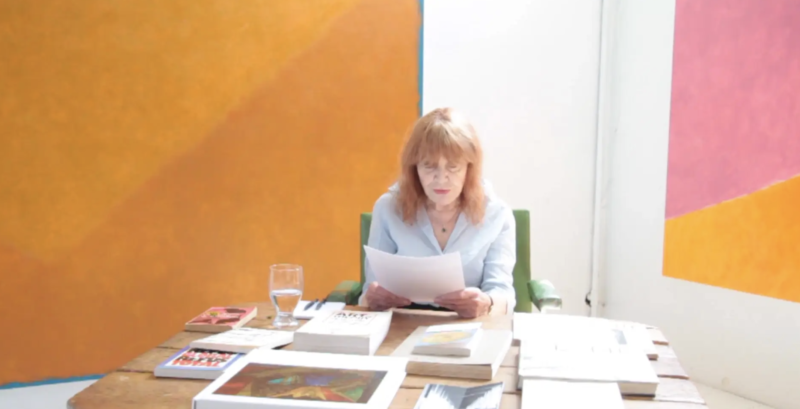 Françoise Sullivan is known as a dancer, choreographer and visual artist. She was one of the founders of the Automatistes group with Paul-Émile Borduas and one of the signatories of the Refus global manifesto (1948). Her work has been the subject of retrospectives at the Musée d'art contemporain de Montréal (2018 and 1981), the Galerie de l'UQAM (2017), the Art Gallery of Ontario (2010), the Montreal Museum of Fine Arts (2003), and the Musée national des beaux-arts du Québec (1993). She has also taken part in several group exhibitions in Canada, Europe and the United States, including On Line: Drawing Through the Twentieth Century at the Museum of Modern Art in New York (2010), The Automatiste Revolution: Montreal 1941-1960 at the Varley Art Gallery, Unionville, Ontario (2010) and at the Albright-Knox Art Gallery in Buffalo. She has received several distinctions and awards, including the Paul-Émile Borduas Prize, the Order of Quebec and the Order of Canada, the Governor General's Award and the Gershon Iskowitz Prize. She is represented by Galerie Simon Blais in Montreal.
Sylvie Tourangeau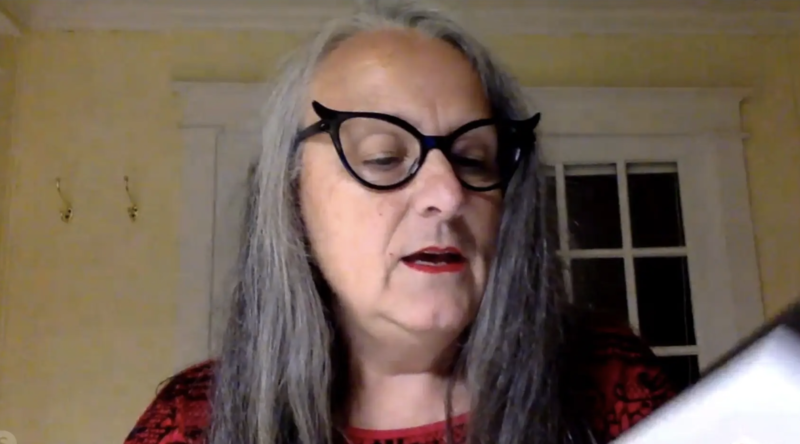 Active in performance art since 1978, Sylvie Tourangeau is interested in deploying performative consciousness through small actions that intensify the quality of "presence", while embodying links with the audience. Performance, relational art, circumstantial rituals and explorative workshops form the basis of her practice and involvement in the arts.
TouVa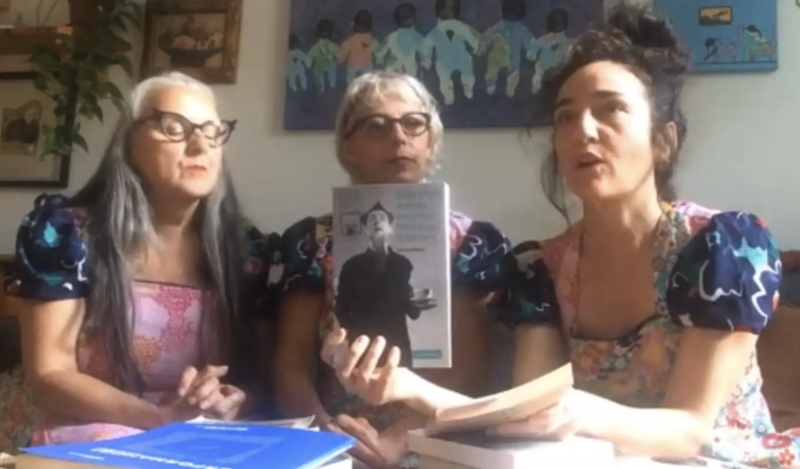 Founded in the spring of 2007, the TouVA collective (Sylvie Tourangeau, Victoria Stanton and Anne Bérubé) is a Montreal-based study group on different modes of performativity. The performance art trio has been researching the practice of performance through multiple frameworks and approaches: performances, conferences, blogs, experimental laboratories, dynamic exchanges with artists, and coaching in varied contexts.  Their activities have included participations to the M:ST festival in Calgary (2016); performances for the 30th anniversary of EXPRESSION centre d'exposition in Saint-Hyacinthe (2016), for the  Musée du Bas-Saint-Laurent (2015), for the Darling Foundry in Montreal (2013), and for Fait Maison in Gatineau (2009); collective workshops at M:ST (2012, 2016, 2017); performative lectures at VIVA! Art action in Montreal (2009), at the 7a*11d Festival of Performance Art in Toronto (2010), and again at M:ST (2014); and numerous performances or research and creation residencies, notably at Le 4330 and at Artexte in Montreal (2011, 2008-09). In 2017, they published The 7th Sense, a book comprising essays, a glossary, as well as contributions by 30 contemporary performance artists.