Moving Histories and Discourse looks at how artistic practices not only can question dominant normative and colonial narratives but have the power to shift our/their/all perspectives on and within them – as they come into being, are re-staged or simply iterated – from text to script, to index to sound to language to choreography and to sculpture.
Carlota Dertnig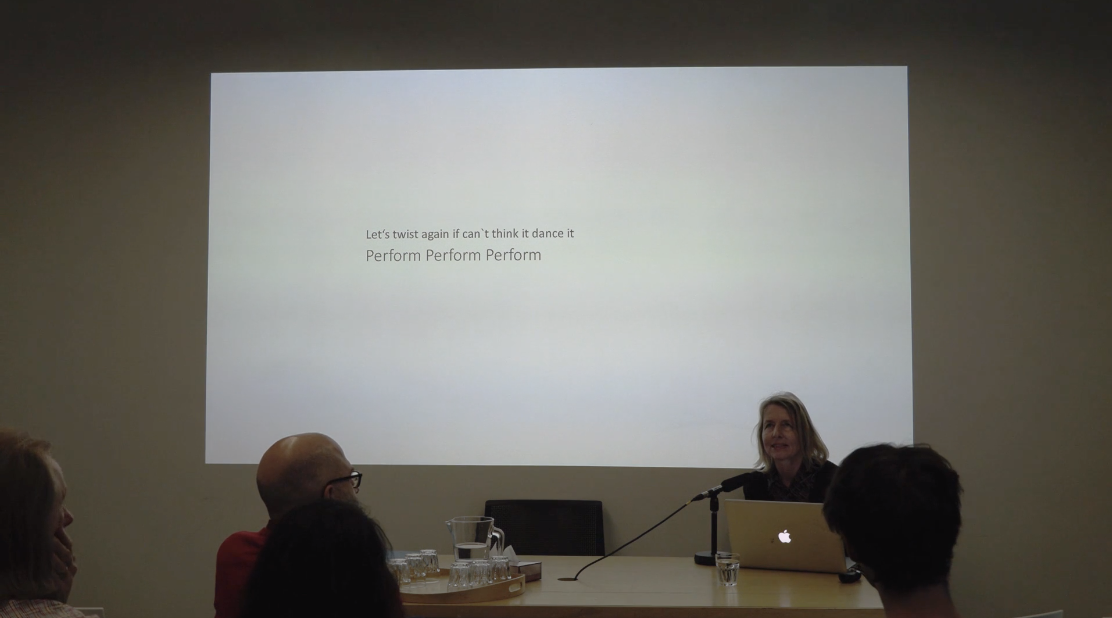 Since the late 1990s Carola Dertnig's work and research has questioned the canonization of conceptual and performance based art forms, from a feminist and queer perspective using the example of Viennese Actionism as a point of departure. Presenting the curatorial and artistic research for her publications Let's Twist Again (2002 to 2004) and exhibition Mothers of Invention (2004) , Dertnig will deconstruct the politics of authorship of women actionnists by unwinding the complex histories of performance avant-gardes since the 1960s on a local, as well from a global perspective. Followed by a conversation with Vanessa Parent.
Carola Dertnig is an artist who is interested in upturning and overwriting aspects of performance art history through strategies of feminist historical revisionism, including imaginative reconceptualization and performative interventions with existing documentation. Dertnig lives and works currently in Vienna. Since 2006 she is a Professor for Performative Art at the University of Fine Arts in Vienna and has been teaching as a guest professor at Cal ARTS in Los Angeles. Dertnig's work has appeared in several exhibitions at P.S.1 Contemporary Art Center, Artists Space and the Museum of Modern Art in New York and at the Secession and MUMOK in Vienna. Dertnig published Let's Twist Again: If You Can't Think It, Dance it. Performance in Vienna from 1960 until Today (coedited with Stefanie Seibold) in 2006 and Performing the Sentence. Views on Research and Teaching in Performance Art (coedited with Felicitas Thun) at Sternberg Press in 2013.
Anique Jordan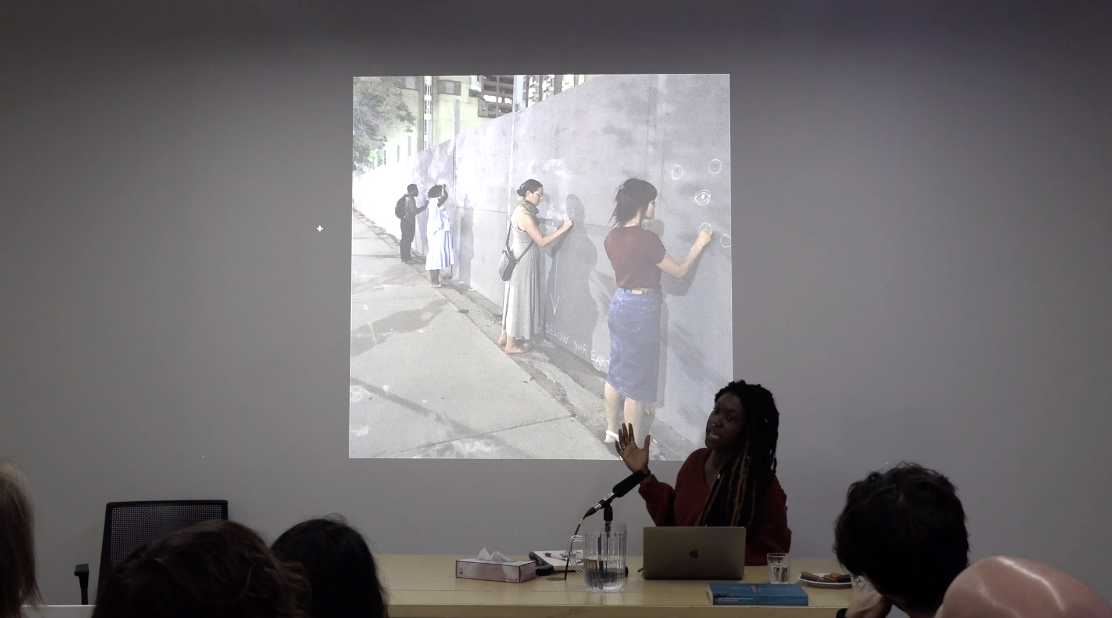 Using the elements of masquerade: mimicry, public engagement, political content and performance, Anique Jordan's work aims to embody, disturb and complicate the archive. Through recent projects: Mas', a DJ'd funeral procession, Evidence a sonic recounting of 1894 Toronto murder trial and the photographic series ban' yuh belly which documents the design of structural violence in racialized communities across Toronto, Anique Jordan will take us through some of her latest archival research and explore the ways in which performance, self portraiture and group process conflate the past and future into our contemporary moment. Followed by a conversation with Joana Joachim.
Anique Jordan is an artist, writer and curator who looks to answer the question of possibility in everything she creates. As an artist, Jordan works in photography, sculpture and performance often employing the theory of hauntology to challenge historical or dominant narratives and creating, what she calls, impossible images. Jordan has lectured on her artistic and community engaged curatorial practice as a 2017 Canada Seminar speaker at Harvard University and in numerous institutions across the Americas. In 2017 she co-curated the exhibition Every. Now. Then: Reframing Nationhood at the Art Gallery of Ontario. As an artist, she has exhibited in galleries such as the Art Gallery of York University (AGYU), Art Gallery of Guelph, Doris McCarthy Gallery, the Wedge Collection, Art Gallery of Windsor, Gallery 44, and Y+ Contemporary. She has received numerous awards, grants and fellowships and in 2017 was awarded the Toronto Arts Foundation Emerging Artist of the Year award. This past year, Jordan completed a residency at the University of the West Indies (Trinidad and Tobago), was the 2018-19 Artist-in-Residence at Osgoode Hall Law School and the most recent recipient of the Hnatyshyn Emerging Artist award. Her work appears in public and private collections nationally.
Adam Kinner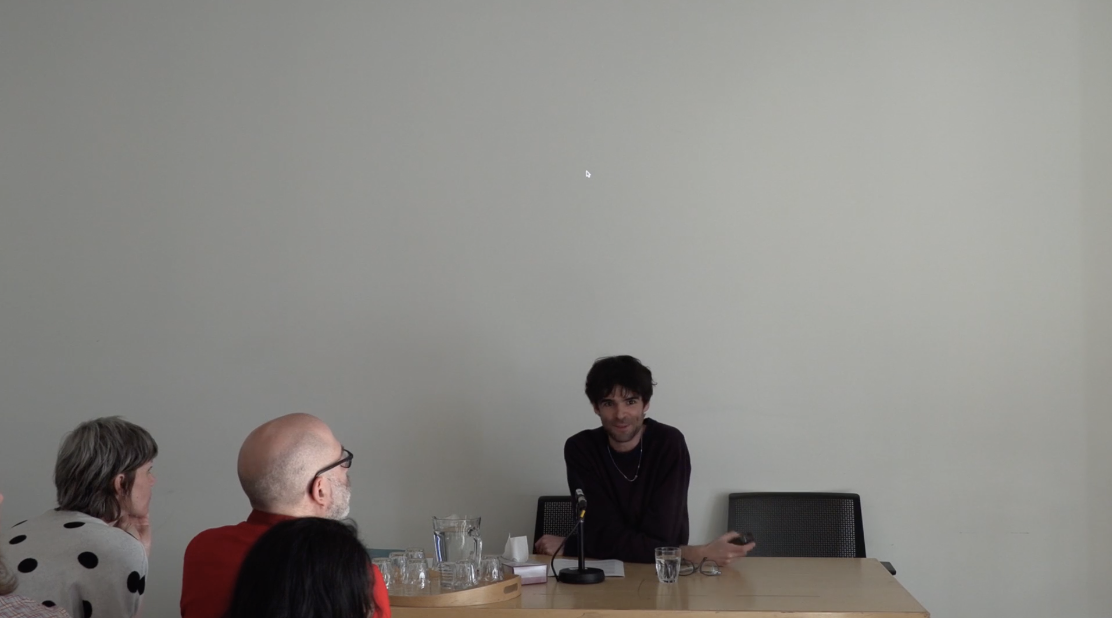 In his presentation Adam Kinner will discuss, among other things, his recent staging of a group piece at the Musée d'art de Joliette called Suite canadienne, a demonstration, based on an early choreography of Ludmilla Chiriaeff. This project proceeded from archival research on the history of choreography in Québec, and the politics of the social dances that the original work from the 1950s instrumentalized in its claim to authenticity. By excavating and re-performing historical texts and movements, Kinner's work invites us to look at Québec's history through another lens and to re-think how we perform the nation. Followed by a conversation with Vincent Bonin.
Adam Kinner (Washington, D.C., 1984) is an artist living and working in Montreal. Having trained in music, he now makes work on the thresholds of performance, sound and visual arts, collaborating with artists from dance and music. Recent projects include Instructions for a performance by Emma Goldman, an exhibition at the Foreman Art Gallery which distills his research on the Haskell Free Library and Opera House, a heritage building that straddles the Canada/U.S. border; an exhibition at Artexte that wove together national and personal performance histories, sound works, and readings; a performance with 8 saxophonists for the Musée d'art contemporain des Laurentides; and a research-performance project for OFFTA in Montreal. He has presented work at the Leonard and Bina Ellen Gallery, SBC Gallery, Galerie de l'UQAM, Musée McCord as well as Usine C, Tangente, Studio 303 and Innovations en Concert. His work has been shown abroad in the UK, USA, France and Belgium. In the summer of 2017, Kinner was a fellow at Vila Sul in Salvador de Bahia, Brazil. He holds degrees from McGill University and Concordia University and is currently completing an MFA at the School of the Art Institute of Chicago.