In this series of videoclips, several artists discuss their selection of documents for the exhibition An Annotated Bibliography: Performance Art in Quebec and Canada.
Johanna Householder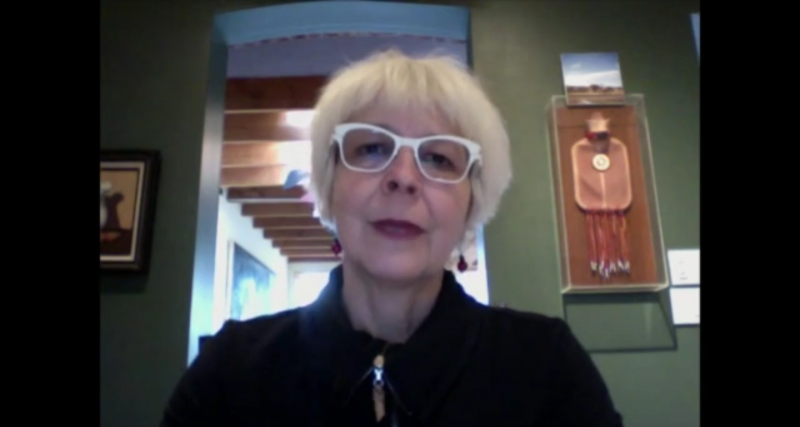 Johanna Householder has been making performances, videos and other artworks since the late 1970s and teaching performance art since the early 1990s. A member of the notorious feminist ensemble, The Clichettes in the 1980s, Householder practices her own brand of cultural détournement. Her work has been shown widely, from Canada to Indonesia. She is a co-founder and director of the 7a*11d International Festival of Performance Art, which held its 8th biennial festival in 2014. She edited, with Tanya Mars, Caught in the Act: An Anthology of Performance by Canadian Women (2005) published by YYZ Books, Toronto, as well as the 2nd edition More Caught in the Act in 2015. She is a professor at OCAD University in Toronto.
Michelle Lacombe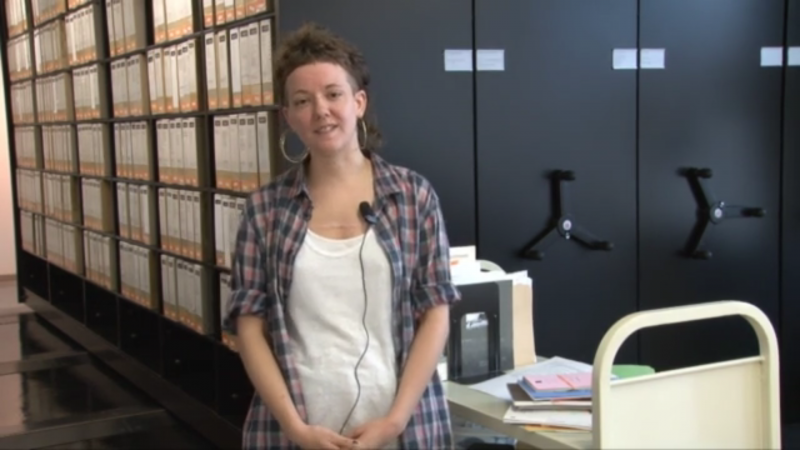 Michelle Lacombe has developed a unique body-based practice since obtaining her BFA from Concordia University in 2006. Purposefully minimalist, her research-based body art practice begins where bodily gesture and mark making are entwined and her performances, banal yet confrontational, are anchored in radically short actions. Her work has been shown in Canada, the USA and Europe in the context of performance events, exhibitions and colloquiums. Her practice as an artist is paralleled by a strong commitment to supporting the development of critical and alternative models of dissemination for live art practices. She has worked with a number of Montreal artist-run centres including articule and La Centrale Galerie Powerhouse, and is currently the director of VIVA! Art Action, a local biennial performance art platform. In addition, she has had a number of complementary experiences in curating, writing and generally resisting dominant culture.
Tanya Lukin Linklater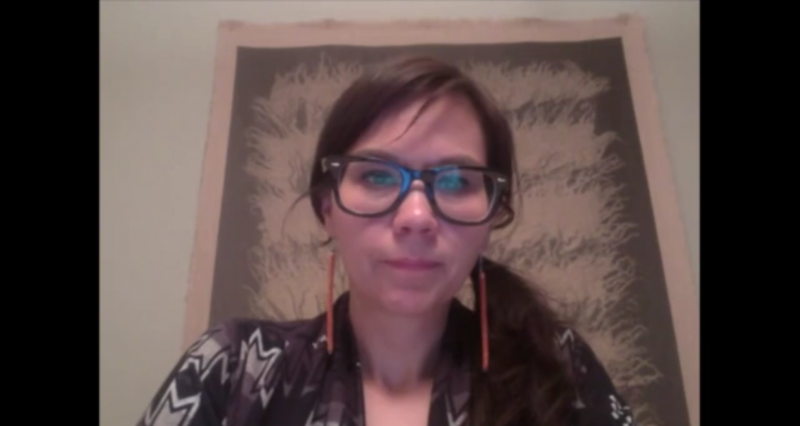 Tanya Lukin Linklater's performances in museums, videos, and installations have been shown in Canada and abroad. She is engaged with the relationships between Aboriginal bodies, stories, poetry, pedagogy, conceptual spaces and Aboriginal languages and institutions. Her work has been shown at EFA Project Space + Performa, New York City, Museum of Contemporary Art Santiago, Chile; at Western Front, Vancouver and elsewhere. In 2016 she presented He was a poet and he taught us how to react and become this poetry (Parts 1 and 2) at La Biennale de Montréal – Le Grand Balcon. In 2017, as a member of Wood Land School, she participated in Kahatenhstánion tsi na'tetiatere ne Iotohrkó:wa tánon Iotohrha / Drawing Lines in Montreal. Wood Land School participated in Under the Mango Tree – Sites of Learning, a gathering for documenta 14 in Athens and Kassel. Tanya's poetry and essays have been published in C Magazine, Yellow Medicine Review, and in publications by the Whitney Museum of American Art Independent Study Program, amongst others. Tanya studied at University of Alberta (M.Ed.) and Stanford University (A.B. Honours) where she received the Mellon Mays Undergraduate Fellowship and the Louis Sudler Prize for Creative and Performing Arts. She was awarded the Chalmers Professional Development Grant in 2010 and the K.M. Hunter Artist Award in Literature in 2013.
https://www.tanyalukinlinklater.com/ 
Tanya Mars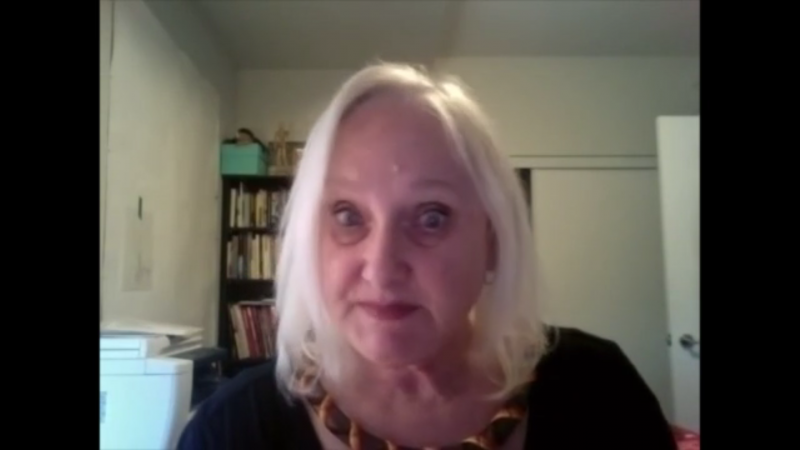 Tanya Mars is a feminist performance and video artist that has been active on the Canadian scene since the 1970s. His work is characterized by satirical and politically engaged feminist imagery. She was a founding member and director of Powerhouse Gallery (La Centrale) in Montreal as well as editor of Parallelogramme magazine for 13 years. She has performed widely across Canada, in Valparaiso, Chile, China, Mexico City, Sweden, France and Finland. She is co-editor with Johanna Householder of anthologies Caught in the Act (2004) et More Caught in the Act II (2015).  In addition a book on her work edited by Paul Couillard, Ironic to Iconic: The Performance Works of Tanya Mars, was published in 2008. She is the recipient of a 2008 Governor General's Award in Visual and Media Arts and teaches at the University of Toronto at Scarborough  in the Department of Art, Culture and Media. 
Clive Robertson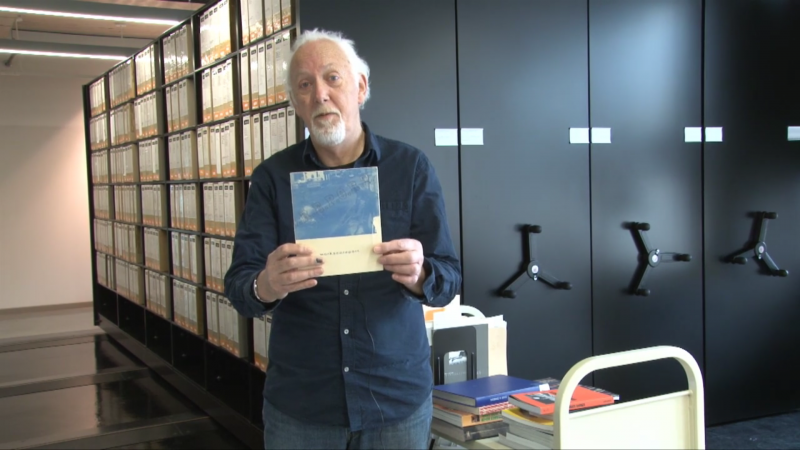 Clive Robertson began making and curating performance art in England in 1970. He co-instigated the Calgary-based international performance and publishing collective, W.O.R.K.S. with Paul Woodrow in 1972. Robertson is a founding editor/publisher of Voicespondence Audio Art Publishing (1974) and of Centerfold/ FUSE  magazine (1976). With Alain-Martin Richard he edited the book, Performance au/in Canada 1970-1990 (Coach House Press/Éditions Intervention, 1991) and in 2007 produced a touring archival retrospective of his collaborations, THEN + THEN AGAIN: Practices Within An Artist-Run Culture , 1969-2006.  He is currently finishing a feature-length video documentary I.O.60's (In Our Sixties) that re-connects with earlier artist communities in the UK and Canada. Clive is recognized as a leading theorist and historian of artist-run culture and currently teaches Performance Art, Art History and Cultural Studies at Queen's University.
Tim Clark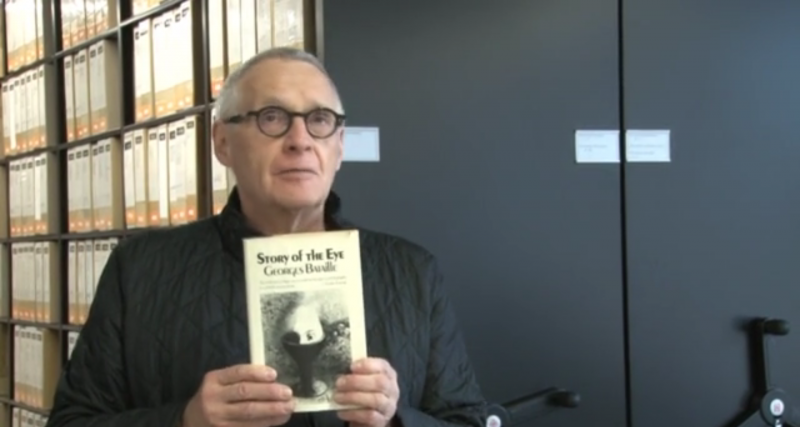 Tim Clark is an interdisciplinary artist invested in performance, photography, and film and video based installations that address issues of social conflict, imperialism and ethics. Since 2010, he has been particularly interested in formulating a genealogical critique of the first and second ecumenical councils in Nicaea and their effects on the history of modernity. His work has been presented in Europe and North America. In 2008, a retrospective of his work was shown at the Leonard & Bina Ellen Gallery at Concordia University and, in 2010, he took part in the exhibition Traffic: Conceptual Art in Canada 1965–1980 at the University of Toronto's Justina M. Barnicke Gallery.
Sylvie Cotton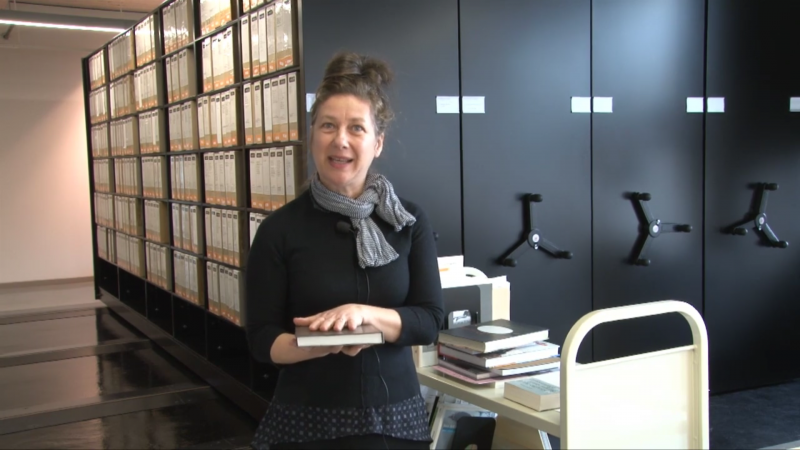 Sylvie Cotton is an interdisciplinary artist, author and curator. Her work is tied to performance, art action, drawing, writing-based practices and residencies, although installation forms are also regularly used to put together exhibitions. Her work involves the creation of situations that establish a relationship with another, or an infiltration of another person's personal world. She is an active member of the Centre Clark and was the Director of SKOL Centre des arts actuels in Montreal. Her work has been presented internationally including a recent retrospective at the Joyce Yahouda Gallery in Montreal.  In 2013 she co-published with Nathalie de Blois Moi Aussi. She is a doctoral candidate in the Études et pratiques des arts program at UQAM. 
Doyon/Demers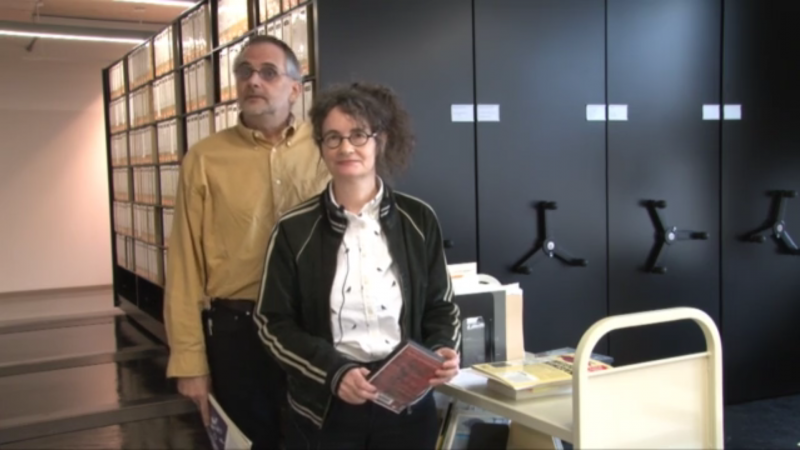 Since 1987, without a studio and within an "indisciplined" practice, Doyon/Demers have explored questions of site-specificity, in socius, action-based art and the relationship between art and life. As a collective, Hélène Doyon and Jean-Pierre Demers have published numerous articles, most recently "Ratisser le réél" in the monograph Alain-Martin Richard – Performances, manœuvres et autres hypothèses de disparition (2014) and "Weaving an undisciplinary research methodology" in the publication Artes e Seus Territórios. Their work has been performed and exhibited internationally throughout Canada, Europe, Brazil, Cuba and Japan.
Alain-Martin Richard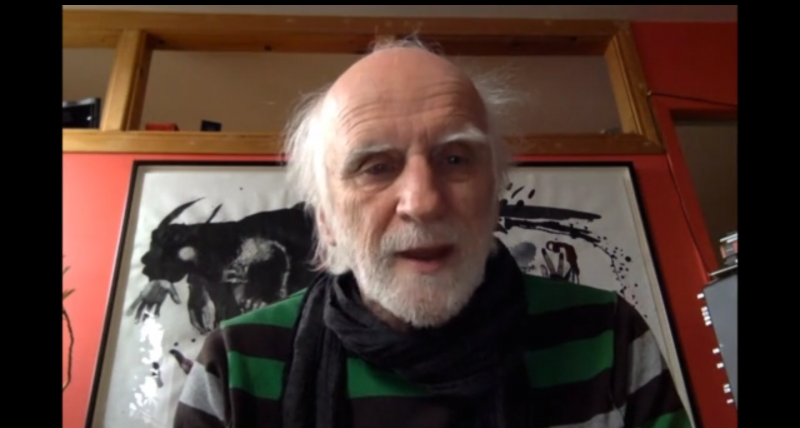 Alain-Martin Richard is a performer, artist, editor, and critic. Since the 1970s he has developed a multidisciplinary practice that considers questions of art in society, and of art as poetic action―and as a philosophy enacted. His production has focused on the objective conditions of artistic experimentation, incorporating practices not usually associated with the field of art. He has participated in many festivals and events, performing in North America, Europe and Japan. With Martin Mainguy he is a member of the collective Les causes perdues, dedicated the exploration of contemporary poetry. He is co-editor with Clive Robertson of the book Performance in/au Canada 1970-1990, and was an active member at INTER/Le Lieu in Québec. In collaboration with Les Éditions Intervention he has organised numerous events, such as Au contraire, la performance (2013) at the Musée du Québec.
Guy Sioui Durand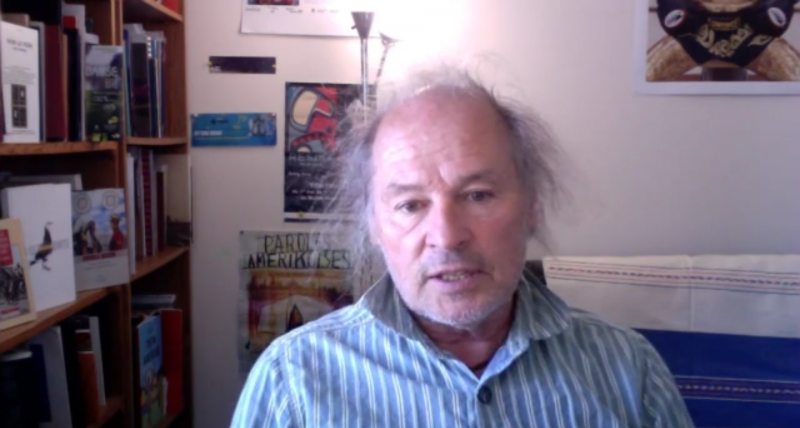 Guy Sioui Durand is a Wendat (Huron) based in Wendake, Québec. He is a sociologist (PhD), art critic, independent curator, and performer (spoken word). He is specialized in contemporary North American indigenous art practices and contemporary art. He is the cofounder of the magazine Inter and the publishing house Les Éditions Intervention in Québec. He has published widely and his most well known publications include Les très riches heures de Jean-Paul Riopelle (2000), L'art comme alternative. Réseaux et pratiques d'art parallèle au Québec, 1976–1996 (1997) as well as his essay Indiens, Indians, Indios (Inter, art actuel, no.104, 2009) and his dossier Les ruses de Corbeau/Coyote/Carcajou published in (Esse, arts + opinions in 2002). Sioui Durand was Aboriginal advisor for 400e anniversaire de la ville de Québec 1608-2008 and curator of Gépèg : Souffles de Résistance (Gatineau, Québec/Ottawa, Ontario, 2009).